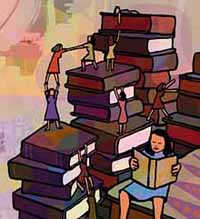 "Nowhere is Rome less well known than in Rome"
Anyone who has lived even briefly in the Eternal City knows how blasé the natives are about their home, and how they view with bemused indulgence the passions it stirs in so many foreign hearts. Of course there are Italians who have written about Rome, notably Alberto Moravia and Elsa Morante, but the vast majority of literary outpourings have come from foreigners.
Here you can find a few proposals of books about our lovely city. Some are more serious, others are useful and entertaing guides for learning "things in Italian"...
We also added a few historical books, novels, essays, a short list of the main Italian literature. Actually, take this as a little proposal for your Italian book collection (in the english translation, of course).
Moreover, if you come to think about some books to add on, do not hesitate to tell us about it and we will place them right away into the list.
Finally, if you feel like, please, order your books at Amazon.com through these links and/or through our search page. In this way, each book you order contributes to a gift certificate to Rome is Home's small library.
It is nice to come to a new home where also some new books are waiting for you!