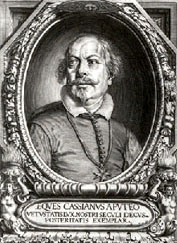 Cassiano Dal Pozzo
Scientist, archeologist, politician, Cassiano Dal Pozzo (1588-1657) was the promoter of figurative arts and the genious inspirator of Classicism and European Baroque.
Cassiano - one of the foremost personalities of 1600's Rome and consultant for the Barberini cardinal family - he was Minister of the Arts and Culture for the Vatican for almost fifty years. He was a great traveler and diplomat and was able to create an extended web of international contacts from Poland to Malta, to England and Portugal.
Cassiano Dal Pozzo was renomated in whole Europe for his artistic sensibility and his role as protector of great talents such as painters Simon Vouet, Nicolas Poussin, Pietro da Cortona, Artemisia Gentileschi,and sculptors as Alessandro Algardi and Gian Lorenzo Bernini.
His palazzo in Via dei Chiavari, soon became the meeting point for all artists of the Roman Baroque, many of whom even resided in the house while working for the Dal Pozzo family. Moreover the palazzo was where Cassiano started his famous "Paper Museum", a world famous collection of several thousands drawings and paintings on natural science.
A physician himself, as a young man he became friends with Galileo and was one of the first persons in the world to use both the telescope and the microscope.