take a walk
To get an idea of the monumentality of Pompey's Theater, walk from Largo di Torre Argentina up Via dei Giubbonari to Campo dei Fiori following the side of Pompey's ancient Portico. Once in Campo dei Fiori, look up at the buildings on your right, behind the movie theater; notice that they are curved, for they follow the rounded rear perimeter of Pompey's Theater.

The adjacent Piazza del Biscione was once the site of various entrance portals from which the audience could start to climb up to their seats in the bleachers that towered up in three circular tiers like in New York's Radio City Music Hall. Now, following Via del Biscione, slip through the passageway (closed at night) into Via di Grottapinta.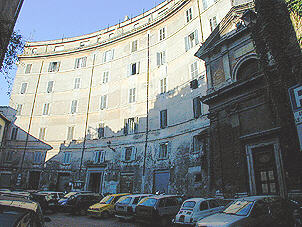 This semi-circular street with its curved building-fronts follows the edge of the former orchestra area in front of the giant stage. As in ancient times, there are many places to eat in and around Piazza del Biscione. There is even a tiny theater, Teatro Dei Satiri on Via di Grottapinta, dwarfed by the ghost of Pompey's memory.

The inner curve of the theatre is faithfully echoed by the shape of the buildings, one of the most remarkable examples of urban continuity in Rome. Parts of the theatre's walls still exist in the basements of the buildings of the area.

A note to archaeology nuts: on the back side of the theater on Via del Biscione, two restaurants, Ristorante San Pancrazio and Ristorante da Costanza, have basement dining rooms built out of the theater's structure.