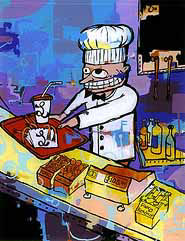 Where should we go get something?

How do we count the ways? Here's just our first few suggestions:

- Be sure to visit Roscioli, the gourmet food purveyor and the very best bakery in town since 1824.

- the best tea shop in town? go to Namastey in Via della Palombella. Daniela is wonderful and she also has a little, cozy tea-room upstairs where you can taste her amazing variety of tea and fresh home-made cakes.

- You are five minutes' walk from the Ghetto, where I would highly recommend Da Giggetto (eat outside beneath Octavia's portico and the ruins of Marcellus' Theatre) --- make sure you get the Carciofi alla Giudia ---
and visit Dal Pompiere for the tagliolini al limone; it's pure heaven.
- There's a wonderful place two minutes up the street and simply called Filetti di Baccalá in the Piazza Santa Barbara (a beautiful place to sit and watch the world go by). Best fried fish in Rome and not visited by many tourists at all.