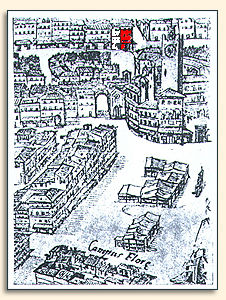 Milestones
To enter the palazzo where our home is located is really like taking a small trip in a time machine.
Built during the XIII century on the remains of the stage of Pompey's Theatre, the building was originally only three stories-high. Here on the left you can see it (marked in red) in an antique drawing depicting the area around Campo de' Fiori (Campus Flores). As you can see, originally it was a corner building, since at that time there was a little street running through the backstage of the theatre.
Via dei Chiavari gets his name from the many shops of key-makers and locksmiths who took over the street during the 1300 AD and remained there for more than sixhundred years until the last one closed in 1914.
From the beauty of the medieval frescos in the entrance hall we can deduct that the building must have been from the very beginning the home of a noble family or of a rich merchant.
From recent studies it seems possible that the building was then taken over in the 1600 by Cassiano Dal Pozzo and that the French painter Nicolas Poussin has lived here at the time Dal Pozzo was his protector in Rome.
Just imagine yourself going up the very same staircase which has seen the steps of such artists as Caravaggio, Artemisia Gentileschi, Poussin, Bernini and many others!